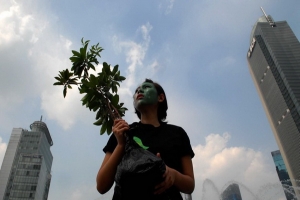 Jakarta (ANTARA News) – In recent years after the awareness of the effect of global warming there was a certain lifestyle adopted to support the Earth that has become a place to stay for more than 6.5 billion human beings.
From the recent Earth`s critical condition caused by humans as citizens such as polluted air, water and even the ozone layers. 
Not to mention the great lost of most rainforests all over the continent that act as the Earth`s lungs absorbing industrial and transportation vehicle carbon emissions had even worsened the condition.
It alerts many people who came up with idea to save the world by applying a greener life style that supports the Earth`s sustainability and renewal for a better home for people.
The idea of a green lifestyle that emerged all over the world from many environmentalists who are concerned about the fact that the Earth is dying in the next few years due to people`s destructive activities.
In Indonesia, a Green Lifestyle to support the Earth has also been applied in the past eight years to help the Earth recover its condition and reduce pollution and carbon footprints.
According to Executive Director of the Indonesian Environmental Forum (WALHI) Berry Nahdian, the emerging green lifestyles among Indonesians recently is good but not yet enough.
Berry said Green Lifestyle in Indonesia was only practiced by several groups of people and also criticized the government saying that it had not yet issued optimal pro-environmental regulations.
He took an example of the trend of using bicycles to work in Indonesia. "Some really do it because of their awareness to reduce pollution, but others just as a sort of spots and trend," he said.
Berry also criticized the growing number of industries and exploitation of natural resources in Indonesia without proper care to preserve the environment.
More Indonesians have applied a green lifestyle during the past eight years with activities such as using a bike to work, planting mangrove trees or separating organic and non-organic wastes.
Other emerging lifestyles to help the earth recover itself
Several students of the Diponegoro University (UNDIP) in Semarang, Central Java, grouped in a mangrove forest preservation community called KeSEMat are to spend their time between Earth Hour (April 22) and World Environment Day (June 5) holding a 2011 Mangrove Music Charity (MMC) show to promote the rehabilitation and preservation of mangrove forests among the younger generation.
KeSEMat is a study group on mangrove ecosystem conservation whose members are students of the Fisheries and Marine Faculty at the Diponegoro University in Semarang.
According to KeSEMat chairperson Fuad Ashari, mangrove forests which comprise many coastal plants play a role not only to prevent abrasion and preserve the coastal ecosystem but also provide economic benefits such as serving as a spawning and feeding ground for many marine species that have an economic value.
Mangrove forests also play a significant role in fighting global warming as it could not only produce oxygen but also trap more carbon dioxide, Fuad said.
According to data from the Marine and Fisheries office of Semarang, of the 36.51 hectares of mangrove forests in Semarang, 11 hectares had vanished or been devastated, Fuad said, adding that, therefore it inspired KeSEMat to carry out a fund raising program for mangrove conservation.
"I hope the government, not only the Marine and Fisheries Office, but also other institutions participate and pay more attention to mangrove preservation," Fuad said.
Besides the bikes to work lifestyle and mangrove planting, there are other efforts that can be made to save the Earth from global warming such as what is about to be done by a Canadian woman making a roller skating tour from Merak, Banten, to Kuta, Bali, to mark International Earth Day.
Sacha Stevenson, 29-years old Canadian woman, said that she is doing the act to inspire people to reduce carbon emissions from motorized vehicles from the atmosphere.
"I do this because I care for the Earth, your Earth, and our Earth. I am not rich and have no money for creating such program. I only have my body to care and preserve planet," Sacha said firmly and clearly.
"I do love this country and this is my way to fight for a greener Indonesia. Moreover I hope other Indonesians would be inspired by me and follow my action in their own way," said Sascha who has lived in Indonesia since 1991.
Sascha is planned to roller skating along 1.420 kilometers across Java Island with a challenging road condition of bumpy streets and rocky hills that starts on May 3, 2011.
To support her action in making Indonesia greener, she would plant seedlings in every stop while taking a rest. It was aimed to symbolize her effort in going through the cities with her roller-blades.
"I just want people to make the Earth greener in life. It`s not only skating, but they can have biking on walking rather than using motor vehicles. I want to inspire those in positions of power to do something good with the power you have," she said.
To support the green Indonesia lifestyle, some major industrial player such as a multinational company, Unilever, also concern on the current issue and sets programs to raise its company and consumer`s environmental awareness.
Last year the company has adopted five hectares of forests in Gunung Gede Pangrango, West Java, where employees also participated in planting trees, said Unilever Assistant Environment Program Manager Astri Wahyuni
To achieve a greener Indonesia, the company also has an environmental program called "Unilever Green and Clean" focusing on changing people`s behavior in managing their household waste and greens.
"The program`s strategy is to empower the community by establishment and debriefing to the environmental facilitators and cadres as agents of change," Astri said.
This program is conducted in 10 major cities namely Jakarta, Bandung, Medan, Surabaya, Yogyakarta, Banjarmasin, Balikpapan, Makassar, Denpasar and Manado, and also managed to form some 134.000 environmental cadres.
There are other company`s efforts to support the critical Earth issue by their latest water purification inventions that run without electricity and gas that allows consumers to obtain clean water to the minimum energy use and planning to create a community garbage bank as an institution to increase the economic value of wastes, making waste reduction process to become more effective.
Whatever the efforts made by human being as the world`s citizen, every single action even if it starts from the smallest thing such as saving water consumption, or applying the 3R (Reduce, Reuse, Recycle) principles individually and collectively, it might save the Earth from dying.
In the future the effort must be addressed more seriously and globally for the sake of the future generation and the Earth`s sustainability.
(T.A050*A051*KR-FNY*KRAES/H-NG/S012)
source: http://www.antaranews.com/en/news/70510/peoples-green-lifestyle-awareness-for-better-earth